It's Vladimir Tretchikoff's Chinese Girl, thought to be the world's most reproduced print. It's an icon of 50s kitsch.
Here's the original painting going under the hammer this week at Bonham's auction house in London.
(AP Photo/Bonham's-Giles Peppiatti-HO)
Some might not even consider this to be 'real' art, but guess how much it went for? £982,050 ($1.49 million). That's more than twice as much as a Tretchikoff work has sold for before.
It was thought the famous turquoise-faced lady would fetch £500,000. However a bidding war broke out, and it was bought by British businessman and jeweller Laurence Graff and will go on public display in South Africa.
According to a Bonhams representative, the painting will be exhibited alongside the rest of the diamond retailer's art collection, at the Delaire Graff Estate in the Western Cape.
Tretchikoff, who grew up in Russia and Shanghai, eventually settled in South Africa in 1946, so in a way the painting is going home. Here's the man himself in action.
Tretchikoff Foundation
The model was Monika Sing-Lee, then 17, whom Tretchikoff spotted working at her uncle's launderette in Cape Town in 1953. Here she is.
And here she is rather older, wearing the same top (the artist changed the colour in the painting).
Apparently she sat for him for six weeks, and got paid 20 rand (£6.50). (Read more about her here)
.
In his 1973 memoir Pigeon's Luck, Tretchikoff said he had put his "heart and soul" into the painting he hoped had "caught the essence of Chinese womanhood". Monika said that the whole experience was so intense and he was so nice to her and so funny that she nearly fell in love with him during the sittings. You can see why...
She never sat for him again, but with her turquoise face and ruby lips, it's certainly a memorable image. Why was it so popular?
I guess because it caught the mood of the moment. It certainly had the sort of colour palette favoured by post-war 1950s textiles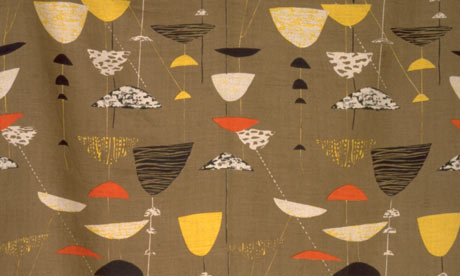 Lucienne Day, Calyx textile
so it fitted right in with the home furnishings, bringing an exotic and daring touch to a dull suburban home, like a plastic pineapple ice bucket in the drinks cabinet.
It had a certain carefree, pre-psychadelic, aspirational quality - after the trauma of the 40s, it was a completely off-the-wall, playful image. It wasn't a wartime poster where someone was telling you to keep calm and carry on or only cough into your handkerchief. It was just a frivolous, bonkers image, one you chose yourself, and one day, you might save up to go to somewhere as exotic as the place that girl came from, where maybe they all had pretty turquoise faces.
The popularity of Chinese Girl led to Tretchikoff, who died in 2006, being labelled the "king of kitsch" - though his Foundation describes him as "the people's painter".
"Vladimir Tretchikoff inspires us" says the Foundation's website, "with his uncompromising and pioneering spirit, indomitable self belief, his originality, his courage and by his all en-compassing drive to do what he loved to do - paint." The Foundation's aim is to "ignite as many courageous, creative hearts as possible through continually communicating Tretchikoff's maverick spirit which is best captured in his quote "Express your passion. Do what you love. No matter what.""
So there you are. And if you've been ignited, then although you can no longer get your hands on the original, you can still adorn yourself with the image...
Beverley Price Icon Image Jewellery more details, click here,