The other week I went to the Richard Diebenkorn exhibition at the Royal Academy. Diebenkorn (1922-93) was an American landscape artist closely associated with the West Coast, who, very unusually, journeyed from abstraction to representation and back again.
I was only familiar with two of his works, but I was eager to see more.
The first room contained his drawings and works on paper. Interestingly, Diebekorn saw these works as central to his practice, and worked on them simultaneously with the oils, seeing them as works in their own right. However, unfortunately, I was not in any way excited or captivated by them. I really couldn't connect with the mark-making.
But the main bulk of the show was Diebenkorn's various phases of painting, from early abstracts of the 1950s with soft, rounded organic forms, through to the 1960s with their more linear, geometric, pale pastel colours and chalky surface. Here's some of the rooms so you can see what I mean.
Again, I just couldn't quite connect with what he was doing. They're big paintings, and I really wanted to like them, but....
Perhaps it was the flatness, the lack of mark-making...?
Glider pilot Lanyon often painted landscape from an aerial perspective, which gave it an abstract, pattern-making feel. This was combined by also tipping up the landscape so you are also viewing it from multiple perspectives. A vertigo sufferer, Lanyon also put this sense of out-of-kilter uneasiness in his work. I felt that this kind of sense was also in these Diebenkorns.
More pattern-making abstracts...
Later works go back to a more figurative style, this time with actual figures in them. I really didn't like these either - sorry. The clumsiness of the figures irritated me, and I just couldn't understand what the figures were doing in the landscape. There seemed to be no connection between the elements.
The catalogue called them 'meditative'. I call them annoying.
These are his life drawings. Guess what? They annoyed me too. They channeled Matisse in some places, Munch, Klimt, and sometimes Schiele, with their unpleasantly doll-like poses. But give him his due, he was good at contextualising the figures.
This reminded me of a Duncan Shanks painting
, all tumbling abstraction based on direct observation of nature.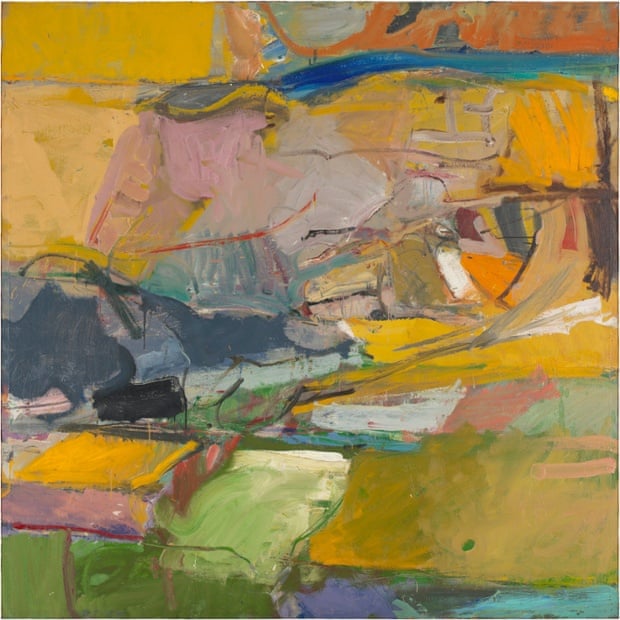 Berkeley #57, 1955. Photograph: San Francisco Museum of Modern Art © 2015 The Richard Diebenkorn Foundation
Duncan Shanks, After Flood (1997)
Then, hurrah!! This was my favourite. I guess it's a cross between his abstract and representational styles.
Richard Diebenkorn, Cityscape 1 (Oil on canvas, 1963)
I was sorely disappointed that he hadn't painted roomfuls like this.
I think you can tell that I didn't warm to the guy. He seemed to be a painter who was wobbling around all over American Abstract Expressionism, even a bit of Hopper, but with one eye on European art such as Cezanne (well, who isn't influenced by Cezanne, eh?), the flatness and pattern-making and saturated colours of Matisse, the chalkiness and textile-type surface pattern of Bonnard. Which should mean I really liked his work. But I didn't. I just couldn't connect with it, either emotionally on a personal level, or in any of the mark-making as an artist.
Diebenkorn described his practise as a 'search for rightness', but it just came across as a hotch-potch of spot-the-influences, like he was some sort of absorbant, spongy shape-shifting sea-creature, changing his surface every so often as a result of some sort of colourful external stimulus in his surroundings, camouflaging his real self.
It's not a bad show. In fact, it's a great show - well laid out, well curated, telling Deibenkorn's story well, so top marks to the Royal Academy for all that. It wasn't the RA, it was me.
Obviously I have a real downer on Mr Deibenkorn, so I will leave you instead with his Top Ten Tips on how to start a painting.
Read and learn.
NOTES TO MYSELF ON BEGINNING A PAINTING
1. Attempt what is not certain. Certainty may or may not come later. It may then be a valuable delusion.
2. The pretty, initial position which falls short of completeness is not to be valued – except as a stimulus for further moves.
3. DO search.
4. Use and respond to the initial fresh qualities but consider them absolutely expendable.
5. Don't "discover" a subject – of any kind.
6. Somehow don't be bored but if you must, use it in action. Use its destructive potential.
7. Mistakes can't be erased but they move you from your present position.
8. Keep thinking about Pollyanna.
9. Tolerate chaos.
10. Be careful only in a perverse way.