You can't have a show about 20th century sculpture without having work by Barbara Hepworth - which is fortunate, because she's one of my favourite artists. I've been to see her work at the new Hepworth Gallery in Wakefield, at the Yorkshire Sculpture Park, and several times to her inspiring studio in St Ives.
Her work is very feminine, very nurturing - not surprising, because she had four children, including triplets with fellow artist Ben Nicholson - and very rooted in the landscape, referring not only to her native Yorkshire but also to her adopted Cornwall.
Don't mistake feminine for namby pamby - this is work of sensuous strength and vitality, and forms a complete contrast to the rooms later in the exhibition of hard-edged male militaristic or machine aesthetic art.
This is Curved Form (Oracle) 1960.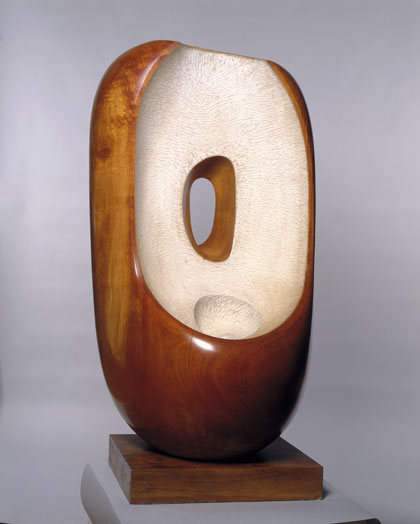 Made of carved guarea wood, the tactile fluid form is smooth and natural on the outside and more textured and painted on the inside. It is sensuous and mysterious, suggesting perhaps a seed-pod, nurture, reproduction and ripeness.
This is Wave of 1943.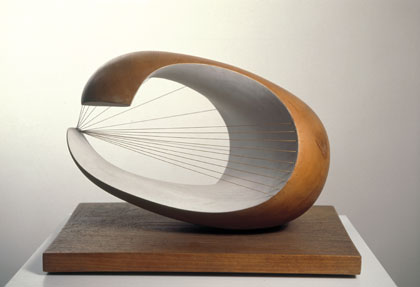 Again carved in wood and painted, is contains strings, and so suggests a musical instrument or aeolian harp. This gives a sound dimension to it, almost as if you listen very closely, you can hear it, like putting your ear to a seashell. The sculpture is meant to be a view of the sea, encapsulating many viewpoints of a landscape in one (rather like a Peter Lanyon painting). 'The horizon of the sea is enfolded by the arms of the land to the left and right' (wrote Hepworth), with a great sweeping gesture held by the tension of the strings.
(Not all of her sculptures are of wood, nor are they small - there are many epicly-sized public sculptures and Wakefiled has the most amazing plasters.)
The next room contained Epstein and Gill, not their best examples. It included a great clunky ugly alabaster by Epstein.
However, the 'Geometry of Fear - 1950s Britain' was a very interesting room. Elizabeth Frink's small bronze birds from 1959 aren't pretty, delicate things.
These are disjointed, fractured forms, menacing and militaristic, like something out of Star Wars. They are the bronze version of Ted Hughes' poem Hawk Roosting (published around the same time these sculptures were made). Both creative forms, poem and sculpture, are born out of a post-war Britain that has itself been taken apart and brutalised, and is trying to find itself again.
Similarly, Kenneth Armitage's 1957 figure on its side, with its stick-like legs, has literally been knocked sideways and can't stand on its own two feet.
In the room also are Eduardo Paolozzi's assemblages - large forms created out of make-do-and-mend recycled scraps and objects.
Eduardo Paolozzi St Sebastian 1957 bronze
It's as if they are self-made figures, trying to piece themselves back together and find themselves again, and to create a new world order out of the chaos in which they find themselves. They are rather touching in their rag-bag appearance, and almost heroic, as these are figures that are, indeed, putting themselves back on their feet.
Overall the exhibition is a very deft piece of curating, the Geometry of Fear room especially (although it would be wrong to think that all post-WW2 sculpture consisted of the fractured forms suggested displayed in that room - just look at what Hepworth was doing in the same era).
However, it is a difficult thing to make sense of such a big subject, but by making good use of the layout of the gallery, it manages to tell a cohesively thought-provoking, if not exhaustive, story.