During half term, I managed to get through to Edinburgh and take in a few shows, including a trip to the Gallery of Modern Art. I was especially keen to take in the sculpture show, and to see how it compared with the very disappointing British Sculpture exhibition at the Royal Academy a couple of years ago - having a theme of 'sculpture' for a show is, after all, ludicrously wide ranging. How to curate and make sense of such a large subject?
The answer here was to narrow the range between 1900 and 2012, and to arrange the rooms each with a theme. The first room that I entered was all about the human form, and contained Ron Mueck's super-sized A Girl (2006).
Born in 1958 in Melbourne (Paula Rego is his mother-in-law, which I didn't know), Mueck's hyper-real sculptures are meant to give a disconcerting sense as you are able to look at something normally quite small in super-close-up, including individually applied hairs on the baby's head. However, I found that the skin was just too shiny and unreal to carry off the illusion and trigger that disconcerting feeling. Or maybe I've watched too many episodes of One Born Every Minute to feel any sense of shock. Or maybe it's having had a baby - of course they feel that big!
In the next room were less literal represenations of figures, with works by Man Ray, Marcel Duchamp, Sarah Lucas (with her stuffed tights) and Henry Moore.
Henry Moore, The Helmet 1939
Moore's piece is at once something militaristic, and also a mysterious abstract object relating to the human form, being one thing inside another. It can also be read as a mother and child, with the 'helmet' as the protective mother.
Further rooms contained works by Nick Evans - 'Oceania' is a giant checker board with huge coral-like figures, and a dull Damien Hirst retake on Degas' 14 year old ballet dancer. Then I discovered Room 1 where I perhaps should have started...
Now we're talking! This contains a piece by Medardo Rosso - 'Ecce Puer' (Behold the Boy) of 1906.
This plaster sculpture was inspired by seeing a small boy push his face against a net curtain, revealing the form in a ghostly, partially hidden, mysterious shape. The result is a textural, organic form.
Then there are Degas' bronzes, where you can feel the fingers of the artist in the work. Hurrah, there is Rodin, and his study of Balzac, with the figure and the dressing gown all merging into one expressive gesture, like a wave, with an organic synthesis of foam and hair forming the head at the top.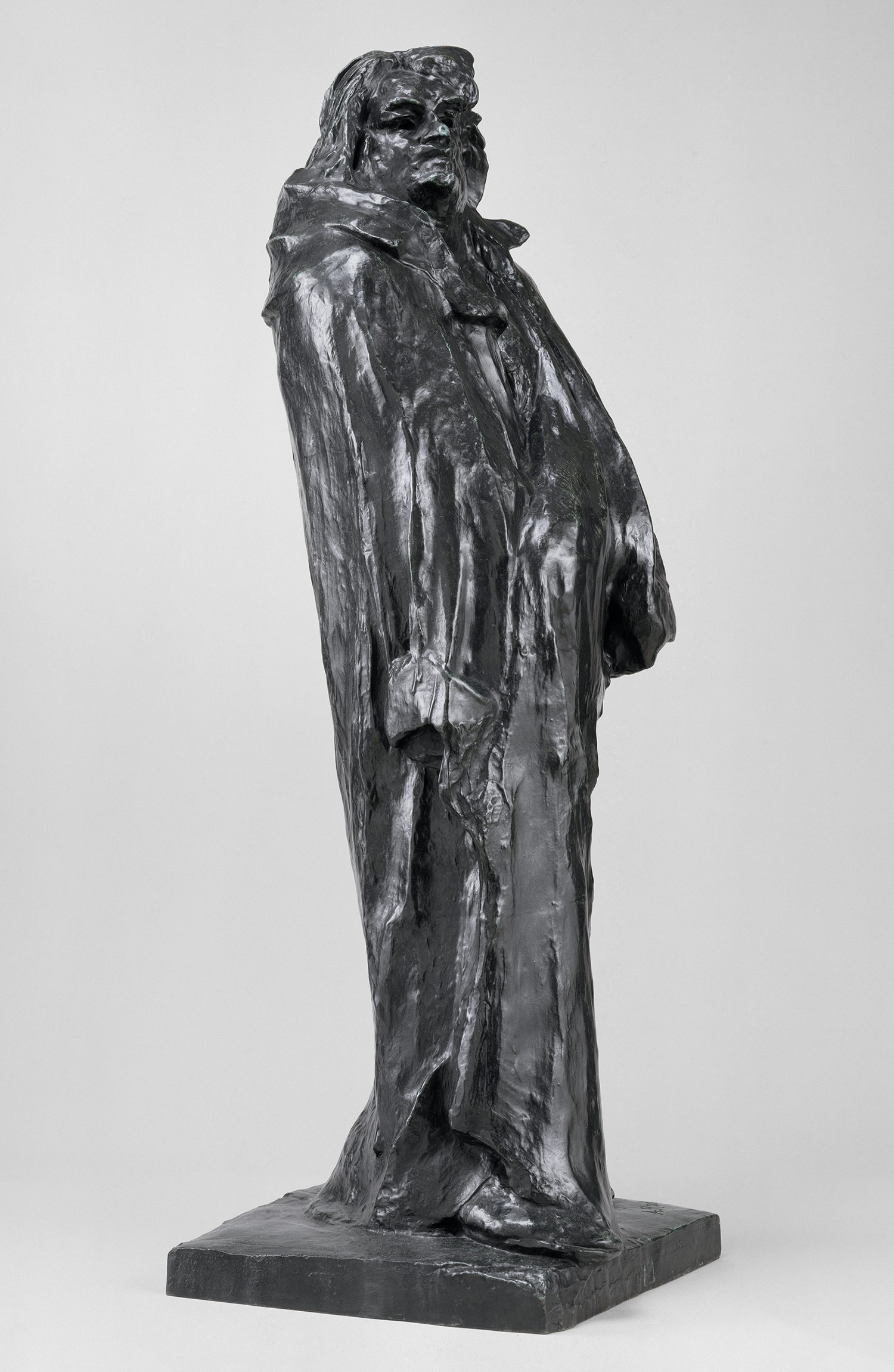 Rodin leaves the marks of the manufacture clear to see. You get a sense of precisely what it was like over a century ago to take a piece of wax and work it into a shape with your fingers. Nothing says that more clearly than the back of his Flying Figure 1900, which originally had a second figure as part of the sculpture. Rodin then decided to remove it by slicing it off with a large knife. You can see the sawing action through the wax as he carved it off, like a Sunday joint. Instead of smoothing off the site of the butchery, he decided that this was all part of the genesis of the piece, and so it is preserved as the final bronze.
This Impressionist sculpture, where you can see the process behind the finished object, of course reflects what was happening in painting in the last part of the 19th century. Painting was changing from highly-finished, studio-created Salon paintings, where brush marks couldn't be detected, to en plein air Impressionism, where expressive gestural brushwork was the order of the day.
Then it was on to a room of Cubist sculpture, of which there's nothing much good to say except I was heartened by again meeting Henri Gaudier Brzeska's Bird Swallowing a Fish.
It's a beautiful thing, a beautiful shape and a lovely patina. It was made in 1914 a few months before the start of WW1 (in which Gaudier Brzeska was killed in 1915 at the age of 23). This was created by someone who was just 21! How many students coming out of art school could make something like this? It's a fusion between machine aesthetic and the organic, with a torpedo like fish being rammed into the beak of a tank-like bird.
It's a resonant precursor of Isaac Rosenberg's WW1 poetry, where he also combines striking imagery of the fusion between the destroying machine and the lyrically organic; as in the poem Dead Man's Dump where 'the swift iron burning bee/ Drained the wild honey of their youth', or in August 1914, 'Iron are our lives / Molten right through our youth. / A burnt space through ripe fields / A fair mouth's broken tooth.'
More tomorrow!