Working in the studio today and listening, as usual, to Radio 4, I heard a piece on Pick of the Week (first broadcast on Radio 3's Night Waves) about Jenny Saville and her first major solo show in the UK which is opening at the Ashmolean Museum in Oxford.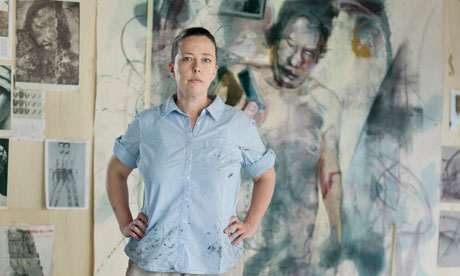 The painter Jenny Saville, photographed in her Oxford studio, June 2012. Photograph: Pal Hansen for the Observer
Saville is famously a painter of flesh; big, lined, oversized, marked corporeal female flesh that tells a story of what it is to have lived. Her new show is an exploration of both human and animal form, living and dead, male and female.
Jenny Saville
Still
2003
oil on canvas, ca. 108 x 144 in.
Gagosian Gallery
She trained at Glasgow School of Art, and was one of the big names in the art world in the 1990's (although she doesn't appear to get a mention in Glasgow School of Art's major upcoming exhibition on its female alumni 'Studio 58; Women Artists in Glasgow Since World War Two' - click the Glasgow School of Art website for more details on the show).
Saville was feted by Charles Satchi and exhibiting in the Royal Academy's Sensation show in 1997 alongside the likes of Damien Hirst. She has built her career in abroad and in the US, and now aged 42 and with two children, she is back working in Oxford, near to the location of her retrospective.
According to the Radio 3 interview, her show in Oxford is also about the cycle of life and death, influenced, amongst other things, by her time spent painting in a studio in Sicily near a meat market. The show displays massive paintings of the flayed carcasses of animals, which are dead flesh, but part of the essential cycle of life.
Jenny Saville, Torso 2 (2004, Oil on canvas

, 360 x 294 cm)
These paintings are monumental (12 foot tall), sculptural and visceral. It takes a lot of confidence and ego (and money) to create something on that scale. The butchered bodies twist and contort in death, and whilst full of pathos, lack the serenity and spiritual overtones of, for example, Rembrandt's similar theme (which Saville would have seen 'in the flesh' as it is Glasgow Art Gallery and Museum).
Rembrandt van Rijn, The Slaughtered Ox (Oil on canvas, 1655)
Instead, it has more of the visceral feel of Chaim Soutine's work
Chaim Soutine, Carcass of Beef (Oil on canvas, 1925)
Ah, Chaim Soutine. Now, I must just have a quick aside here.
Mr Soutine, as a very poor, and, by all accounts, very intense young artist in Paris in the 1920s, admired the work on this theme by the likes of Rembrandt and Chardin, and saved up to buy an animal carcass from the slaughterhouse - the way you do. This he hung in his studio, and did a total of ten paintings from it.
They are convulsive, animated, agitated pieces of impastoed colour, which get at the heart of what it is to have a body, and to give it up to the process of decay.
Chaim Soutine, Carcass of Beef (Oil on canvas 192

4

)
This series of paintings took a bit of time, so Soutine got buckets of blood from the butcher to throw over the carcass to keep it looking fresh. And so from death and decay came fresh colour and new art full of life.
Not that the neighbours agreed, as the stench was appalling, and the blood dripped through their ceilings, and the police were called. Soutine argued that art came before hygiene (and apparently that also included personal hygiene, unfortunately).
The art collector Dr Albert C Barnes (of the just-opened Barnes Foundation in Philadelphia - more of that in a future post, because I've just been there...) bought 52 of Soutine's work in a bargain-basement career-making job lot, paying the penniless artist between $15-30 per painting, depending on which one of Barne's letters you believe. Soutine immediately hot-footed it to the south of France. Barnes, knowing full well that he was creating a market in an artist, was now sitting on a small fortune, with keen interest from dealers. In February 2006, an oil painting from this series 'Le Boeuf Écorché' (1924) sold for a record £7.8 million ($13.8 million) at Christies in London....
But back to Jenny Saville...
Saville
seems to have aways had an interest in this cycle of life and death; she has talked of an art-historian uncle who gave her, as a child aged 11, a section of hedge in the garden and told her to observe it as it changed throughout the year, thus teaching her vaulable lessons about observation and seasonal change. (Parents amongst you might think of your own computer-fixated bairns and raise a sceptical eye at this story, but she must have been a suitably receptive child to appreciate such a gift.) She also had a friend photograph her as she gave birth, which I must say made me feel somewhat inadequate as part of the sisterhood, in that in my case I merely pushed out a baby and didn't turn the hospital into an art installation.
In Saville's show, which includes fresh-from-the-easel work as well as back catalogue, she also displays new paintings of Carla, a transsexual, whose modern ability to transform her body fascinates Saville. She talked in the Radio 3 'Night Waves' interview of Carla's body being a 'landscape of gender' and a 'modern architecture of flesh'.
Her interest lies in recording, in painterly terms, that which is between states - between life and death, or male and female, because by an understanding of one gives you an increased awareness of the other; in other words, an understanding of death makes you feel more alive.
See a slideshow of the work here.