If you've ever wondered what it would be like to actually step into Van Gogh's world, inside one of his paintings, then here's your chance.
A full-length animated film has been made where every single frame is an oil painting in the style of Van Gogh, based on live action using real actors, and recreations of Van Gogh's paintings.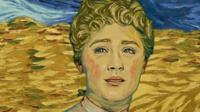 This superhuman endeavour used the talents of hundreds of artists working 12-13 hour days, in order to create 65,000 oil paintings to turn into film to tell the life of Vincent in paint.
Mind-boggling!!