Thanks to a very Alert Reader (you know who you are!), the mystery posed here of the painting in M's office has finally been solved! My thanks go to them and their hard work in tracking it down.
Here it is behind Miss Moneypenny, Naomie Harris.
I've spent a great deal of time trawling through various online resources, including the Your Paintings website - hot on the theory that the painting was owned by a major London Institution, or was perhaps of a London park such as Hampstead Heath (with its Fleming connections), or a painting by a contemporary of Turner or Constable. Turner, of course, is memorably referenced in Skyfall, as in the scene in the National Gallery, and again in the scene in M's office
The reason I thought of Hampstead was that Bond author Ian Fleming lived there (as well as having a house in town). As a local resident, he objected in the 1930s to the proposed demolition of old cottages nearby for the construction of the modernist-designed terrace buildings at 1-3 Willow Road.
These were designed by architect Erno Golfinger. However, the old cottages were demolished, and the futuristic new houses duly built. A furious Fleming got his own back by naming one of his most famous villains Goldfinger.
However, I digress.
The painting in M's office turns out not to be of Hampstead, nor is it by a contemporary of Turner. It's by James Isaiah Lewis (1860-1934) and is
View down over Ham Fields from the Top of Richmond Hill, Surrey. It shows the curve of the river Thames in the distance.
Here is one version in its original frame.
Lewis was a prolific artist, beginning as a photographer's assistant, and then working in Richmond producing local paintings for local people. He often sold work to nearby pubs - apparently he had a somewhat beer-related lifestyle, and ultimately died a poor man, despite painting and selling prolifically.
He regularly painted small pictures in pairs, finding these popular with local newlyweds. And he painted this same scene of Richmond many, many times, almost like printing a photograph, but just with slight changes to size or detail. Just have a look at the sky in the version above - it's not the same as the Skyfall one.
Here is the companion piece to the above painting (a companion piece being a painting which was painted to match so that they could be hung as a pair). It's called View of Richmond Bridge, and they measure a dinky 8 x 12". They were sold on Feb 9 2007 from Halls Fine Art Aucitons as Lot 446C.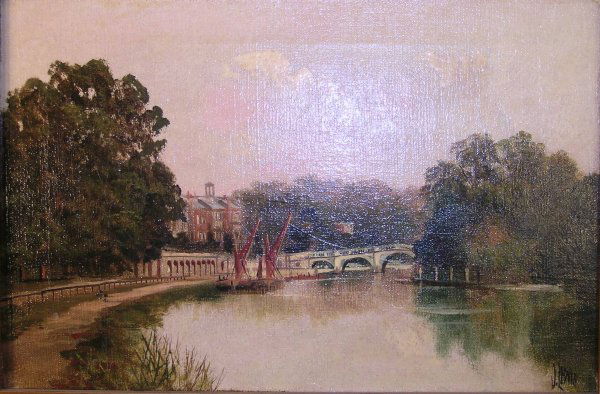 Lewis also painted the Richmond scene as an oval, which you can buy for only £750 from the Bowman Gallery.
Or here it is in a 16" x 14" version, available for sale from the same gallery. again, look at the clouds - it isn't this one in the film. How many versions did he do...?
This version of Richmond Bridge sold in January this year for £400 at auction. Looking at it closely, it's a pretty formulaic painting, and it measures 20 x 30".
Now, I'd say that the one in M's office is about that size. It's large enough so that we can actually make it out. But it's a pretty obscure painting to recognise - it's taken us nearly 3 years to track it down!!
So what is it telling us?
It's a calm, pastoral scene of England in the great landscape tradition, but moving towards the turbulent Modern era (it was painted about 60-70 years after Turner's Fighting Temeraire, the ship which represents Bond himself). Lewis died in 1934, and after him came English Modernist landscape painters such as Paul Nash, with his vision of a surrealist, spiritual England that is both familiar and futuristic, with an underlying tension of disharmony, violence and turmoil.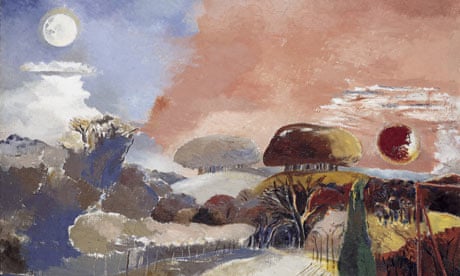 Paul Nash, Landscape of the Vernal Equinox (1943)
Landscape painting starts to become just as much about the self as it does about the actual place. It is also a reflection of the mind of the artist.
If this painting of the view of the Thames from Richmond Hill is therefore meant to represent Moneypenny - and she's standing right in front of it, in the same way that Q and Bond sat in front of paintings in the National Gallery which each told us something about their characters - then it's perhaps telling us that she, too, is calm and ordered. She is based in tradition, rooted in London and England - as shown in the painting by the curve of the Thames, the lifeblood of London. However, she is looking towards the new, more turbulent era.
So Moneypenny and Lewis are bridges between the old and new, between the traditional, ordered and formal, and the new world of often violent turmoil and chaos, where the familiar becomes unfamiliar.
Perhaps you no longer know who your enemies are...
Therefore, according to my theory, look out in the new Bond film Spectre (out this week!) for lashings of retro old-school Bond references, but plenty of modern new twists, violence and chaos!