If you missed the amazing Ai Weiwei exhibition at the Royal Academy recently (you can read my blog about it HERE), then don't worry.
The Royal Academy have just released a pretty fabulous interactive tour of the exhibition, available online until November, with guides and information, which you can 'walk' round at your own pace and in any order you want.
So wherever you are, you can take an immersive tour of the galleries, alongside commentary from the exhibition's curators and interviews with the artist himself.
AI WEIWEI 360 TOUR
There are introductions from RA Artistic Director Tim Marlow and WikiLeaks founder Julian Assange, with a voiceover from Channel 4 News chap Jon Snow. The tour consists of navigable 360º imagery, video and audio channels, and a range of specially-created video helps you to discover the meaning, context and technical detail of Ai Weiwei's work.
This means you can not only explore Ai Weiwei 360 on a desktop, tablet or smartphone using just your internet browser, but this is (apparently) the first exhibition to be captured in photorealistic stereoscopic 3D, available on both Samsung Gear VR and Google Cardboard. Yes. Google Cardboard.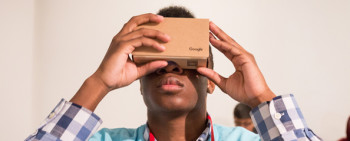 As I said, it's a great idea - imagine if you had a record like this of all great shows - walking through the Crystal Palace at the Great Exhibition, or the iconic Salon de Refuse.
It's also a completely different version of the show itself, creating a different virtual experience of the show. Like you're one of the surveillance cameras that watched Weiwei, except now you're watching the show remotely. That's a whole new layer of weird.
However, it's still a brilliant idea, so if you didn't make it to London, or even if you did see the exhibition, do take the opportunity to have a look at the show now!