I thought I'd kick-start the year by looking forward to a couple of block-bustin' shows which are on during 2016.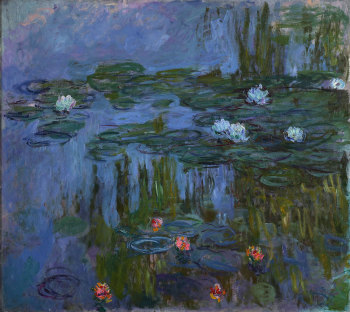 Claude Monet, Water Lilies (Oil on canvas, 1914-15)
It opens on 30 January and runs until 20 April, and using the work of Monet as a starting point,

will be looking

at the role that gardens played in the evolution of art from the early 1860s through to the 1920s.
This was of course a period of great social change and innovation in the arts, covering movements of Impressionism, Post-Impressionism and the Avant-Garde, so hopefully this is going to be a show which is about something more art-historically meaty than just selling stacks of pretty fridge magnets in the exhibition shop.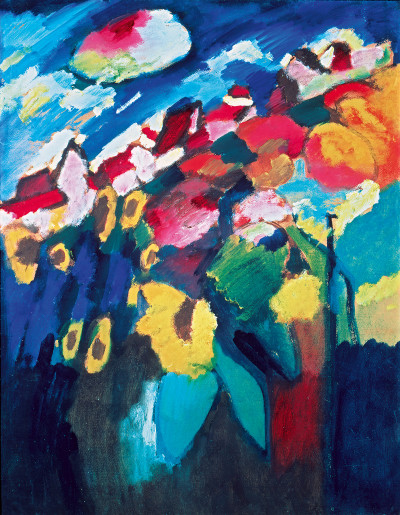 Wassily Kandinsky,
Murnau The Garden II
(Oil on canvas, 1910)
As well as Monet, who once said he owed his painting "to flowers", there are over 120 works, including ones by Renoir, Cezanne, Pissarro, Manet, Sargent, Kandinsky, Van Gogh, Matisse, Klimt and Klee.
However, I'm looking forward to the monumental Agapanthus Triptych, which has been reunited specifically for the exhibition.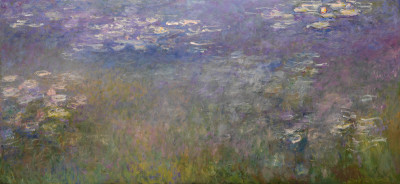 Claude Monet, Waterlilies (Agapanthus)
(Oil on canvas, 1915-26)
Painted only 14 years later is this picture, which is going to feature in a major show at the Tate Britain. Like Monet's waterlilies, the painting below is both natural and abstract, and is also produced during a world war. But if you look closely, the waves of the 'sea' are the ghostly wings of abandoned, skeletal aircraft. Monet is calm and content, but this is eerie and disquieting.
Paul Nash, Totes Meer (Dead Sea) (Oil on canvas, 1940-41)
The exhibition is PAUL NASH (

26 October 2016

–

5 March 2017). Nash

is one of the most distinctive and important British artists of the twentieth century and this will be the largest presentation of his work for a generation.
Known as a landscape artist, specifically of the rolling downland and chalky coast of southern England, these landscapes became surrealist stages for strange unspoken scenes, full of mysticism and symbolism from an ancient past, and of the natural phases of nature.
Works are arranged chronologically in the exhibition (hurrah!) in themes (hurrah again!!) such as the Symbolist landscapes, war landscapes, coastal scenes, objects, Surrealism, megaliths and cycles of nature. (Yes, keep is simple, Mr Curator. Don't knock the obvious approach to presenting an artist's work - it's not about you, it's about them. )
These themes draw out Nash's concept of 'unseen landscapes' and how this enabled him to interpret the English landscape in a way that made connections between modernism and tradition. Central to Nash's work was the idea of a life force in inanimate objects ranging from traces of human impact on the landscape such as monoliths and abandoned architectural features to trees, stones and found natural objects.
In the 1930s and 1940s Nash experimented with photography, collage, and assemblage as well as painting. Compare this photo below with Totes Meer above.
Paul Nash, Wrecked Aircraft, Cowley Dump (Black and white negative, 1940) (c) Tate
His work was particularly close to that opf Eileen Agar in these years, and her work will be shown alongside his in the exhibition to show connections between the two, as well as work by Ben Nicholson, Barbara Hepworth and Henry Moore.